高速多通道信号记录回放系统。
Main Product Features
•
Up to 250 MB/s, 500 MB/s, 800 MB/s, 1.0 GB/s, 1.4 GB/s, & 2.8 GB/s Recording Rate Options
•
Up to 96 TB of Integrated Storage
•
Rates and Capacity are Scalable
•
Multiple Digitizing Channels
•
8-bit, 14-bit, 16-bit Resolution Options
产品主要技术指标:
可选 250 MB/s, 500 MB/s, 800 MB/s, 1.0 GB/s, 1.4 GB/s, & 2.8 GB/s 的高速记录速率。
高达96TB的磁盘存储。
采样速率和存储容量可括展的。
多通道
可选 8-位, 14-位, 16-位 的分辨率。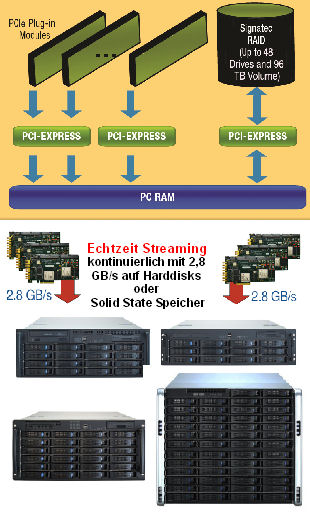 Main Product Features
•
Up to 250 MB/s, 500 MB/s, 800 MB/s, 1.0 GB/s, 1.4 GB/s, & 2.8 GB/s Recording Rate Options
•
Up to 96 TB of Integrated Storage
•
Rates and Capacity are Scalable
•
Multiple Digitizing Channels
•
8-bit, 14-bit, 16-bit Resolution Options


Click to enlarge

With ever-increasing performance features, PC workstations and server-class computer systems can serve as affordable, real-time recording systems. Signatec leverages the latest COTS computer components and engineers best-of-class waveform digitizers to stream data continuously to drive storage systems without any break in the analog record, and for a fraction of the cost of proprietary recording systems.

The DR-Series systems provide acquisition and storage solutions specifically tailored for real-time wideband data recording applications. One of the primary usages is as a large data repository for high-speed data acquisition applications. Such applications require a guaranteed continuous transfer rate with no missing data. Unlike other generic storage systems, the DR-Series is engineered for performance under these exacting conditions.

The most integral component to the DR-Series data recording system is Signatec\'s unique technology called PCI Buffered Acquisition Mode. In PCI Buffered Acquisition mode, Signatec\'s high-speed digitizer boards are able to acquire data to their onboard RAM as well as transfer the data from the onboard RAM to the PC simultaneously. In short, all of the DAQ board\'s onboard memory is configured to work as a FIFO, which provides ample data buffering between the DAQ board and PC for the most demanding waveform data recording applications. Even when performing segmented acquisitions, where there are gaps in the record between acquisitions, PCI Buffered Acquisition mode will allow for a much higher total throughput than standard acquisition instruments due to being able to acquire and transfer data simultaneously.

Other commercially available products not implementing such a PCI Buffered Acquisition feature are less efficient and are, under certain condition, unacceptable. For example, by only allowing acquisitions to RAM until all (or part of) the memory has been spent, the acquisition must stop while data transfers to the PC, which means valuable information is being lost. Because Signatec believes its customers shouldn\'t be penalized for application requirements demanding deep memory solutions, Signatec stands alone in the industry by providing the PCI Buffered Acquisition mode as a standard product feature.

Multiple data acquisition digitzer boards can be integrated within a system using Signatec\'s designed master-slave operation feature that allows for connecting multiple digitizers together to create a simultaneous multi-channel acquisition system. In master-slave operation, the master board drives the clock and trigger signals for the slave boards so that data on the slave boards align sample-for-sample with the data on the master board.

In addition a SYNC1500-6 board can be added that can provide clock, trigger, and synchronization signals for up to 6 data acquisition boards either within a single chassis or across multiple chassis, thus further expanding possible scaled rates and capacities. Signatec\'s digitizers are also capable of being operated remotely through a standard TCP/IP network connection.

Signatec's DR2800 signal recording system was created for developers of advanced SIGINT, radar and medical imaging applications. These systems continuously record up to 2.8 GigaSamples per second of data through the PC to drive storage without any break in the analog record.

Applications

■ Communications
■ Communications Monitoring
■ Signal Intelligence
■ Radar Monitoring
■ Ultrasound Scanning
■ Laser Scanning
■ Terabyte Digital Storage Oscillopscope
Main Product Features
•
Up to 250 MB/s, 500 MB/s, 800 MB/s, 1.0 GB/s, 1.4 GB/s, & 2.8 GB/s Recording Rate Options
•
Up to 96 TB of Integrated Storage
•
Rates and Capacity are Scalable
•
Multiple Digitizing Channels
•
8-bit, 14-bit, 16-bit Resolution Options


Click to enlarge

With ever-increasing performance features, PC workstations and server-class computer systems can serve as affordable, real-time recording systems. Signatec leverages the latest COTS computer components and engineers best-of-class waveform digitizers to stream data continuously to drive storage systems without any break in the analog record, and for a fraction of the cost of proprietary recording systems.

The DR-Series systems provide acquisition and storage solutions specifically tailored for real-time wideband data recording applications. One of the primary usages is as a large data repository for high-speed data acquisition applications. Such applications require a guaranteed continuous transfer rate with no missing data. Unlike other generic storage systems, the DR-Series is engineered for performance under these exacting conditions.

The most integral component to the DR-Series data recording system is Signatec\'s unique technology called PCI Buffered Acquisition Mode. In PCI Buffered Acquisition mode, Signatec\'s high-speed digitizer boards are able to acquire data to their onboard RAM as well as transfer the data from the onboard RAM to the PC simultaneously. In short, all of the DAQ board\'s onboard memory is configured to work as a FIFO, which provides ample data buffering between the DAQ board and PC for the most demanding waveform data recording applications. Even when performing segmented acquisitions, where there are gaps in the record between acquisitions, PCI Buffered Acquisition mode will allow for a much higher total throughput than standard acquisition instruments due to being able to acquire and transfer data simultaneously.

Other commercially available products not implementing such a PCI Buffered Acquisition feature are less efficient and are, under certain condition, unacceptable. For example, by only allowing acquisitions to RAM until all (or part of) the memory has been spent, the acquisition must stop while data transfers to the PC, which means valuable information is being lost. Because Signatec believes its customers shouldn\'t be penalized for application requirements demanding deep memory solutions, Signatec stands alone in the industry by providing the PCI Buffered Acquisition mode as a standard product feature.

Multiple data acquisition digitzer boards can be integrated within a system using Signatec\'s designed master-slave operation feature that allows for connecting multiple digitizers together to create a simultaneous multi-channel acquisition system. In master-slave operation, the master board drives the clock and trigger signals for the slave boards so that data on the slave boards align sample-for-sample with the data on the master board.

In addition a SYNC1500-6 board can be added that can provide clock, trigger, and synchronization signals for up to 6 data acquisition boards either within a single chassis or across multiple chassis, thus further expanding possible scaled rates and capacities. Signatec\'s digitizers are also capable of being operated remotely through a standard TCP/IP network connection.

Signatec's DR2800 signal recording system was created for developers of advanced SIGINT, radar and medical imaging applications. These systems continuously record up to 2.8 GigaSamples per second of data through the PC to drive storage without any break in the analog record.

Applications

■ Communications
■ Communications Monitoring
■ Signal Intelligence
■ Radar Monitoring
■ Ultrasound Scanning
■ Laser Scanning
■ Terabyte Digital Storage Oscillopscope
Main Product Features
•
Up to 250 MB/s, 500 MB/s, 800 MB/s, 1.0 GB/s, 1.4 GB/s, & 2.8 GB/s Recording Rate Options
•
Up to 96 TB of Integrated Storage
•
Rates and Capacity are Scalable
•
Multiple Digitizing Channels
•
8-bit, 14-bit, 16-bit Resolution Options


Click to enlarge

With ever-increasing performance features, PC workstations and server-class computer systems can serve as affordable, real-time recording systems. Signatec leverages the latest COTS computer components and engineers best-of-class waveform digitizers to stream data continuously to drive storage systems without any break in the analog record, and for a fraction of the cost of proprietary recording systems.

The DR-Series systems provide acquisition and storage solutions specifically tailored for real-time wideband data recording applications. One of the primary usages is as a large data repository for high-speed data acquisition applications. Such applications require a guaranteed continuous transfer rate with no missing data. Unlike other generic storage systems, the DR-Series is engineered for performance under these exacting conditions.

The most integral component to the DR-Series data recording system is Signatec\'s unique technology called PCI Buffered Acquisition Mode. In PCI Buffered Acquisition mode, Signatec\'s high-speed digitizer boards are able to acquire data to their onboard RAM as well as transfer the data from the onboard RAM to the PC simultaneously. In short, all of the DAQ board\'s onboard memory is configured to work as a FIFO, which provides ample data buffering between the DAQ board and PC for the most demanding waveform data recording applications. Even when performing segmented acquisitions, where there are gaps in the record between acquisitions, PCI Buffered Acquisition mode will allow for a much higher total throughput than standard acquisition instruments due to being able to acquire and transfer data simultaneously.

Other commercially available products not implementing such a PCI Buffered Acquisition feature are less efficient and are, under certain condition, unacceptable. For example, by only allowing acquisitions to RAM until all (or part of) the memory has been spent, the acquisition must stop while data transfers to the PC, which means valuable information is being lost. Because Signatec believes its customers shouldn\'t be penalized for application requirements demanding deep memory solutions, Signatec stands alone in the industry by providing the PCI Buffered Acquisition mode as a standard product feature.

Multiple data acquisition digitzer boards can be integrated within a system using Signatec\'s designed master-slave operation feature that allows for connecting multiple digitizers together to create a simultaneous multi-channel acquisition system. In master-slave operation, the master board drives the clock and trigger signals for the slave boards so that data on the slave boards align sample-for-sample with the data on the master board.

In addition a SYNC1500-6 board can be added that can provide clock, trigger, and synchronization signals for up to 6 data acquisition boards either within a single chassis or across multiple chassis, thus further expanding possible scaled rates and capacities. Signatec\'s digitizers are also capable of being operated remotely through a standard TCP/IP network connection.

Signatec's DR2800 signal recording system was created for developers of advanced SIGINT, radar and medical imaging applications. These systems continuously record up to 2.8 GigaSamples per second of data through the PC to drive storage without any break in the analog record.

Applications

■ Communications
■ Communications Monitoring
■ Signal Intelligence
■ Radar Monitoring
■ Ultrasound Scanning
■ Laser Scanning
■ Terabyte Digital Storage Oscillopscope
Main Product Features
•
Up to 250 MB/s, 500 MB/s, 800 MB/s, 1.0 GB/s, 1.4 GB/s, & 2.8 GB/s Recording Rate Options
•
Up to 96 TB of Integrated Storage
•
Rates and Capacity are Scalable
•
Multiple Digitizing Channels
•
8-bit, 14-bit, 16-bit Resolution Options
With ever-increasing performance features, PC workstations and server-class computer systems can serve as affordable, real-time recording systems. Signatec leverages the latest COTS computer components and engineers best-of-class waveform digitizers to stream data continuously to drive storage systems without any break in the analog record, and for a fraction of the cost of proprietary recording systems.

The DR-Series systems provide acquisition and storage solutions specifically tailored for real-time wideband data recording applications. One of the primary usages is as a large data repository for high-speed data acquisition applications. Such applications require a guaranteed continuous transfer rate with no missing data. Unlike other generic storage systems, the DR-Series is engineered for performance under these exacting conditions.

The most integral component to the DR-Series data recording system is Signatec\'s unique technology called PCI Buffered Acquisition Mode. In PCI Buffered Acquisition mode, Signatec\'s high-speed digitizer boards are able to acquire data to their onboard RAM as well as transfer the data from the onboard RAM to the PC simultaneously. In short, all of the DAQ board\'s onboard memory is configured to work as a FIFO, which provides ample data buffering between the DAQ board and PC for the most demanding waveform data recording applications. Even when performing segmented acquisitions, where there are gaps in the record between acquisitions, PCI Buffered Acquisition mode will allow for a much higher total throughput than standard acquisition instruments due to being able to acquire and transfer data simultaneously.

Other commercially available products not implementing such a PCI Buffered Acquisition feature are less efficient and are, under certain condition, unacceptable. For example, by only allowing acquisitions to RAM until all (or part of) the memory has been spent, the acquisition must stop while data transfers to the PC, which means valuable information is being lost. Because Signatec believes its customers shouldn\'t be penalized for application requirements demanding deep memory solutions, Signatec stands alone in the industry by providing the PCI Buffered Acquisition mode as a standard product feature.

Multiple data acquisition digitzer boards can be integrated within a system using Signatec\'s designed master-slave operation feature that allows for connecting multiple digitizers together to create a simultaneous multi-channel acquisition system. In master-slave operation, the master board drives the clock and trigger signals for the slave boards so that data on the slave boards align sample-for-sample with the data on the master board.

In addition a SYNC1500-6 board can be added that can provide clock, trigger, and synchronization signals for up to 6 data acquisition boards either within a single chassis or across multiple chassis, thus further expanding possible scaled rates and capacities. Signatec\'s digitizers are also capable of being operated remotely through a standard TCP/IP network connection.

Signatec's DR2800 signal recording system was created for developers of advanced SIGINT, radar and medical imaging applications. These systems continuously record up to 2.8 GigaSamples per second of data through the PC to drive storage without any break in the analog record.
Applications
■ Communications
■ Communications Monitoring
■ Signal Intelligence
■ Radar Monitoring
■ Ultrasound Scanning
■ Laser Scanning
■ Terabyte Digital Storage Oscillopscope