紧凑的数据记录仪(流存储)
持续的记录和回放在800兆字节/秒
独立操作通过以太网或主机系统命令/控制
1U的底盘20英寸高,17英寸宽
可扩展的数据存储容量8TB
固态硬盘驱动器
前面板显示状态显示
8通道的电缆接口
多源数据记录能力
最多4个外部输入通道
多个外部接口可包括系列FPDP,技术,seriallite二,10gige
100-240vac内部电源供应器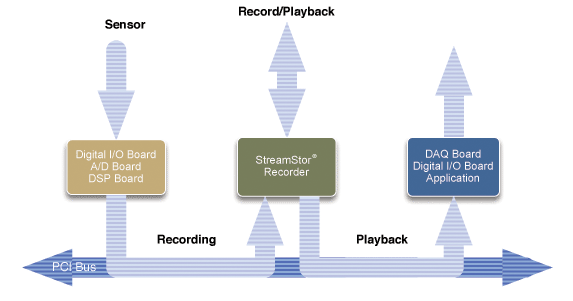 The Big River™ LTX3 recording system provides up to 800 MB/s recording and playback performance in a compact, power efficient package. At 17" in width and 20" in depth and 1.75" tall, the LTX3 provides a new level of exceptional performance and capacity for mobile, portable or space constrained recording and playback applications.
The system can operate independently from a host computer with command/control performed over a network connection. Control can also be automated from a software application using the StreamStor® software API from a network connected computer. Cabled PCIe provides connectivity to a host computer for command/control and/or data access.
When configured with Solid State Drives, the system provides a robust platform with shock and vibration tolerance. The drive shelf is isolated from the chassis and unique wedge locks secure each drive.
The Front panel status display provides key operational parameters including drive status, temperature conditions and possible error conditions.
Based on the StreamStor® Amazon Express architecture, the LTX3 supports all of the same external interface mezzanine cards as the Amazon Express platform. This includes Serial FPDP, LVDS and 10GigE.
Compact data recorder based on StreamStor® Amazon Express
Sustained recording and playback at up to 800 MB/s
Standalone operation via Ethernet or host system command/control
1U chassis - 20" deep, 17" wide
Scalable data storage capacities to 8 TB
Solid-state or hard drive (notebook) media
Front Panel OLED Status Display
8 lane Cabled PCIe interface
Multi-source PCI Express recording Capability
Up to 4 external input channels
Multiple external interfaces available including Serial FPDP, LVDS, SerialLite II, 10GigE
100-240VAC internal power supply