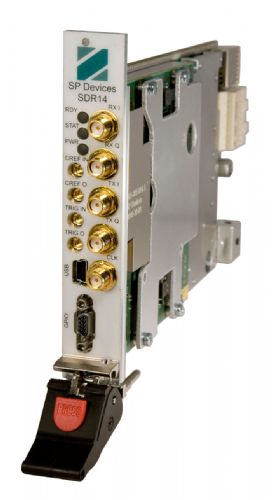 SP Devices发布高速采集800MS/S 产生1600MS/S的高速AD/DA卡,分辨率14bit,双路采集双路产生。
该产品特点如下:
• 两路模拟输入
14 bits 分辨率
采样率 800MS/S
• 两路模拟输出
14 bits 分辨率
• 支持内外时钟
• 支持外部触发
• 支持数据流模式
• 多记录模式下支持重复频率大于1 MHz
• 存储容量 1024 MByte
• 总线接口 USB 2.0 / cPCIe / PXIe / PCIe
• FPGA开放,支持用户开发
• 二次开发支持 C/C++ and MATLAB
Overview
The SDR14 is a dual channel flexible digitizer combined with dual channel signal generation. SDR14 offers an outstanding combination of high bandwidth and dynamic range, which enables demanding measurements such as RF/IF sampling and generation of very wide band signals. The high sampling rate is enabled by SP Devices' proprietary interleaving technology ADX.
Analog Input (AFE)
The analog input of SDR14 is AC-coupled and optimized for spectral purity over a wide bandwidth. The frequency band is 10Hz to 500MHz, which enables sampling of wide band signals. The outstanding dynamic range enables measurement on multi systems radio channels. The two outputs can be used for either two separate channels or sampling of an IF from a complex mixer.
Analog Output (AFE)
The analog output of SDR14 is AC-coupled and optimized for generation of wide band signals. The dual outputs can be used for generation of 2 independent channel or generation of complex signals.
The analog output is also available in a DC coupled version for generation of Zero IF signals.
Interface to the Host
The digitizer connects to the host via a high-speed USB 2.0 cable for easy to use standalone operation. Compact PCI Express / PXI Express interface is available for systems integration as a modular instrument. A PCIe version for integration into a PC is also available. All interface types allows for streaming of data at high transfer rates.
Software Development Kit (SDK)
The SDR14 comes with an easy-to-use API that allows easy integration into any application. Software tools for application development include C/C++, Matlab and DLLs for Windows XP/Vista. The SDK also includes SP Devices´ data capture tool, ADCaptureLab.
FPGA and the ADQ Development Kit
The SDR14 is built on the ADQ DSP computational board which employs a Xilinx Virtex 6 LX240T FPGA. The user can access the FPGA and implement customized digital signal processing by purchasing the ADQ Development Kit. This kit contains everything that is needed to get started with the FPGA development, and also includes examples and documentation. See the ADQ DSP product page for more information.
Acquisition Functions
Standard trigger options are external, software and level trigger. The SDR14 supports single and multiple records. The multiple records mode can be combined with any trigger function. A time stamp function tags each record with timing information.
Generation Functions
The generator is based on single shot or continuous transmission of waveforms from onboard RAM. The trigger of the data pattern is linked to the trigger of the acquisition to synchronize transmission and reception.
A loopback function is available, where received data is retransmitted. Real time signal processing can be applied on this data through the ADQ Development kit.
ADQ Design Services
SP Devices' offers the possibility of customizing the ADQ series digitizer boards. Customizations can include hardware, software and FPGA firmware changes. Read more about our design services here.
Further Information
For further information, download the datasheet here, and you will be contacted by our sales department.
Product Information




Trigger

Software/Ext./Level

Clock

Int. / Ext. (SMA) 2 Vpp

Clock reference

Int. / Ext. 10 MHz / PXIe

Interfaces

USB/cPCIe/PXIe/PCIe

Input

Resolution

14 bit


Input signal range

2.2 Vpp

Input channels

2

Sample rate

800 MSPS

Waveform memory

500 MByte

Output


Resolution

14 bit

Output signal range

1 Vpp

Output channels

2

Update rate

1600 MHz

Waveform memory

500 MByte