20MHz虚拟示波器

3MHz标准信号发生器
2MHz任意波形发生器
网络分析仪
噪声发生器
数字输入数出
脉宽调制输出



and more...



An oscilloscope, waveform generator, and digital I/O port integrated into one small, low cost unit.
20MS/s dual channel, 10-bit oscilloscope

2 MHz DDS arbitrary waveform generator

Eight channel digital I/O

USB powered, no AC adaptor required

Open source software for Windows, Linux and Mac
7 ranges in 1:2:5 sequence
2Hardware Ranges

20 steps in 1:2:5 sequence

Normal

, Auto, Single Shot

On-screen, cursor selectable

On-screen, cursor selectable

Amplitude and timebase cursors

X-Y plot
Spectrum Analysis (FFT)
Histogram
Waveform Math
| | |
| --- | --- |
| | |
| | |
| | |
| | |
| | |
| | |
| | |
| | Sine, Square, Triangle, Ramp, Noise |
| | |
| | Variable duty cycle at constant frequency |
| | 8 bit resolution, vertical and horizontal |
The Bode Plotter is VNA (Vector Network Analyzer) software that operates the CircuitGear hardware over the frequency range 0.1 Hz to 3 MHz to measure amplitude and phase for circuit theory and filter design exercises.
PWM Output
Interrupt Input
The oscilloscope, generator, and digital I/O are operated from a software GUI (graphic user interface) included with the hardware. The software is open-source and source code is included. The software is written in Tcl/Tk, a scripting language that is easy to learn yet powerful for creating GUIs. It runs under Windows, Linux, Unix, and Mac operating systems.
CircuitGear
is compatible with National Instruments LabVIEW, MATLAB, Visual Basic, and any application or programming language which can access serial ports. Syscomp provides LabVIEW example VIs that demonstrate how to control CircuitGear. Screen shots of the LabVIEW examples are shown below. The LabVIEW examples are available on the download page.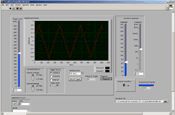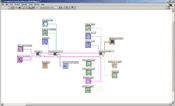 Windows

Pentium 233 MHz, 64 MB RAM, 5 MB Hard Drive Space
Minimum 1024x768 screen resolution at 16 bit color depth
USB Port
Windows 98SE/Windows ME/Windows 2000/Windows XP/Windows Vista
Linux

Linux with kernel 2.4 or higher, X Windows
USB Port
Mac

Mac OS X 10.4 or higher, PowerPC or x86
USB Port
This product supersedes the DS1M12 Stingray.